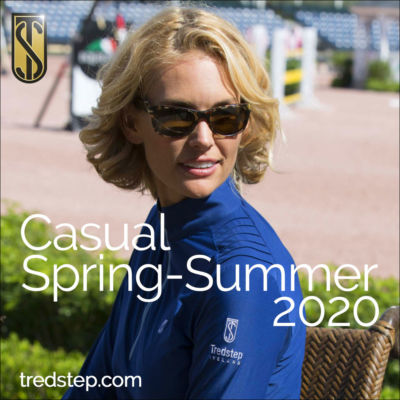 Tall boots are worn largely for more formal events such as shows, clinics, and schooling or if you just prefer the feel of the tall boots. They create a polished look while providing protection from chafing and extra grip on the saddle.
A Half chap and Paddock Boot combination are often easier to fit and are generally not quite as expensive as tall boots making them an attractive option for many casual riders or those who find Tall Boots do not suit.
With literally hundreds of size and fit options the beautiful and classically designed Tredstep Tall boots offer the rider unparalleled performance, comfort and fit. Incorporating the first ever design of a top class tall boot that flexes with the rider, enhancing the effectiveness and comfort of the riding experience. This innovation is enveloped in exquisite leather with beautiful lines offering unsurpassed sophisticated luxury. Each style has its own specific stylistic and functional improvements as Tredstep applies the latest technology to perfecting fit and form. Like wearing  gloves on your legs, they look great and feel great.
The latest generation of Tredstep's Short Paddock boot combines high-class European styling and precise elegance with exquisite aniline calfskin leathers giving a timeless edge to unrivalled refinement and enduring comfort. Tredstep's specialized TMI insole combines the ability to mould to the shape of the foot with 3D arch support and a durable shock absorbing heel for all day enjoyment.
The Tredstep Paddock Boot teamed with a Tredstep Half Chapwill offer today's rider exclusive stretch and conventional leathers in a variety of designs to fit everyone's favourite style and budget, whilst ensuring an incredible fit. Choose from size zip Suede through to rear or side zip leather, and our industry renowned perforated neoprene and luxury leather combinations.