Chasing the Sun at MET Olivia, Spain with Anna Wilks for #TeamTredstep
Our plan for MET…
Our team IN Showjumpers arrived in MET Oliva for the autumn tour with 15 horses and 6 riders. I'm lucky enough to have a fantastic string to ride this year – three top-class 8yo stallions and two super 7yos. Our plan is to continue their development over the course of the tour at this amazing facility in Spain. As a team we've been coming to MET for several years and it's been a great place to educate the horses and step them up to the bigger classes. The rings, the atmosphere and the footing here is great for the horses – not to mention the weather! The team here have managed to put on a fantastic show despite the COVID restrictions – and we're very grateful to be showing here for the coming weeks.
I have two 8YO stallions who have just stepped up to 1.45m level – Guestlist (Cicero x Eros Platiere) and Elton Van Het Exelhof Z (Elvis x Cassini I) and here they will be aimed at the Longines World Ranking classes and CSI2* Grand Prix's. As we write, Elton has just jumped clear in the first ranking class of the tour, and will jump the GP on Sunday.
The two 7yos will jump the age classes as they have been throughout this season- and my other 8yo HOCUS POCUS (Ultimo x Koja) will step up to 1.40m level.
All 5 have been on top form over the last few shows, so fingers crossed for some good results whilst we're here!
Anna and Tredstep…
I've been lucky enough to be part of Team Tredstep since my junior days, and have always worn and loved their boots. Right now I'm competing in the Donatello SQ II Field Tall boots and they fit like a glove!
My favourite product of the season is definitely the Long-Sleeve Air Shirt – They have a mesh strip on the underarm so are perfect for competing in these warmer climates – whilst still protecting me from the sun. They look so smart and stylish too.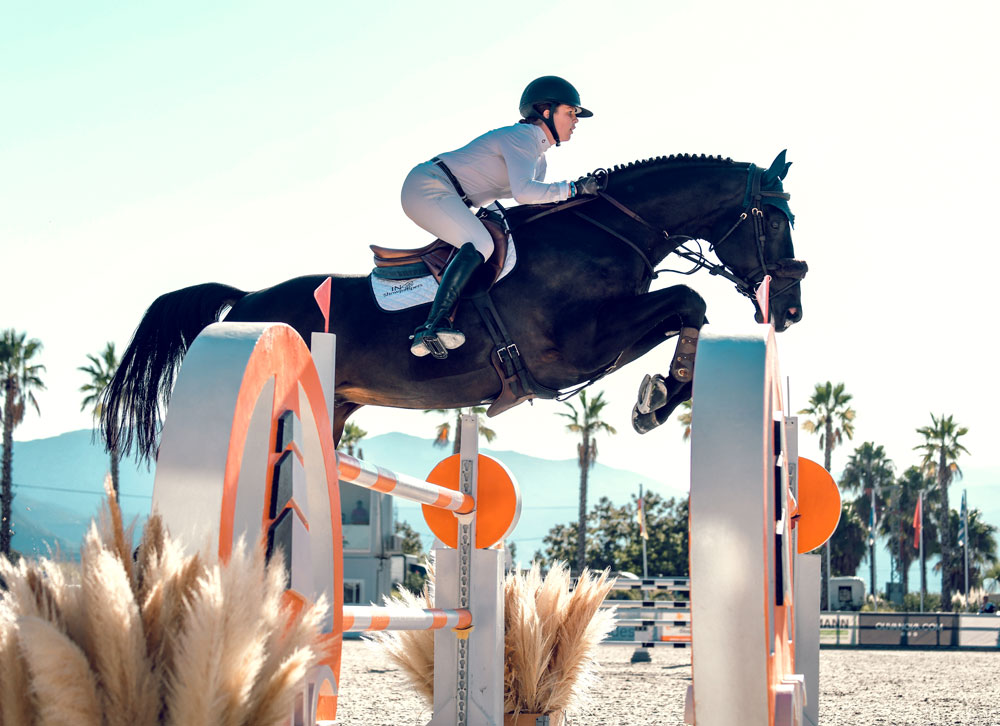 November Update from Anna Wilks for #TeamTredstep
Well, that's a wrap! We've finished another tour at MET Oliva and what a brilliant 3 weeks it has been. All of our horses have performed exceptionally, and we couldn't be more pleased with their progress. A huge thank you has to go to the amazing team at MET who have handled the challenges posed by COVID-19 so well and put on three weeks of fantastic sport within the government guidelines
The 8yo stallions Elton Van Het Exelhof Z (Elvis x Cassini) and Guestlist (Cicero x Eros Platiere) have both jumped a number of clears at 1.45m level, including Longines World Ranking Classes and Grand Prix – and even clocked up a few Ranking points along the way! This year they have really solidified their form at this level, and I've felt very lucky to have such top-class horses on my team.
8yo Hocus Pocus (Ultimo x Kojak) fulfilled our aim for this tour, stepping up to 1.40m level successfully and my superstar 7yo Diamanthella (Diamant De Semilly x Hickory Mail) exceeded all expectations by jumping consistent clears in the young horse classes. We took the decision to step her up to the Gold tour for the final week and she was clear all week again, topped off by a flawless round in the 1.40m to finish. She is a big horse who has taken some time to get strong in her body, but she skips around the biggest classes so easily – and we're very excited for her 8yo year.
We now head to Sunshine Tour for another two weeks of competing. My Tredstep Air Shirts are packed and ready for the sunny days and I'm looking forward to jumping in the beautiful big grass arenas there.
Thank you as ever to Tredstep for all your support this year- I'll be back with another update in a few weeks time (and hopefully a tan too…!).
Tredstep Ireland specialises in the design, manufacturing and sales of equestrian apparel and riding boots, including Tall Boots, Competition Boots, Dress Boots, Field Boots, Country Boots, Paddock Boots, Half Chaps and Elasticated Chaps. Team our footwear with Tredstep Breeches, Riding Tights, Casual Shirts, Polo Shirts, Competition Shirts, Coats, Jackets, Gilets, Socks, Belts and Riding Gloves.
The Dublin based Irish company serves competitive and leisure horse riders in Ireland, United Kingdom, Europe, America, Canada and the Rest of the World
From its inception, Tredstep has sought to expand the boundaries of traditional design by innovating and using technologically advanced materials and production techniques to enhance rider performance, comfort, fit and form. This has resulted in a portfolio of products that fit, enhance and flatter the rider. For over 25 years, Tredstep has mixed traditional designs from the Irish equestrian culture and the United Kingdom with innovative technological advancements in material, production techniques and design, enhancing the style, performance, functionality of the modern riders wardrobe.
The Tredstep catalogue of products are designed for both casual and competitive riders for the pursuits of Eveniting, Showjumping, Dressage, Equitation, Hunter, Hunter Jumper, Jumper, Hunting, Pony Club and Riding Club.
Tredstep products are available worldwide from retail outlets and tack shops and can also be purchased throughout the company's state of the art ecommerce website tredstep.com. For further information, please contact [email protected]